ZenCart Extension Module for the Shipping Rates API
Posted by Doug Sherman, Last modified by Doug Sherman on 30 Jan 15 07:59 PM
| | | |
| --- | --- | --- |
| | Free Zen Cart Extension API Module | |
---
Frustrated with the capabilities of your Zen Cart to quote accurate shipping?


Our free extension module is the fix! Provide accurate calculated rates to your customers for your preferred domestic and international services.

Our module's capabilities go far beyond what is available via either the native shipping capabilities of Zen Cart or other third-party add-ons. While most shipping modules can sometimes adequately handle simple shipping situations for simple items, they quickly break down when working with multiple items or quantities-- let alone any other complexities.

Zen Cart does not even handle item dimensions, a major problem in being able to quote accurate rates!

Our Shipping Rates API will "fill the gaps" and provide you with the versatility and accuracy you need in a wide range of situations. Whether you ship larger items that might end up being dimensionally rated, ship from multiple locations, or just typically often have orders that require multiple boxes, our API will do the job.

After you install our module and subscribe to AuctionInc's Zen Cart Module, your customers can use your "Estimate Shipping" button anytime to view our accurate calculated rates.

When they are ready to check out, they can select their preferred service, and the cost of the service will be included in their total. The selected service will be passed on to you in the order detail.

The AuctionInc Shipping API

An xml webservice that can be integrated into any platform for provision of accurate comparative shipping rates.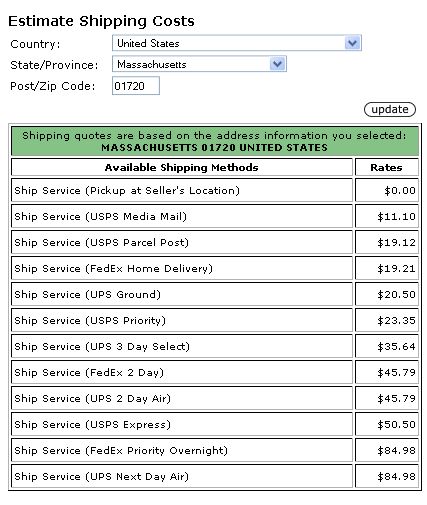 Our free add-on module for Zen Cart supports all the features and capabilities of our
powerful Shipping Rates API:
* Accurate calculated shipping from USPS, FedEx, UPS and DHL
* Domestic and International services supported
* Support for USPS flat rate boxes
* Intelligent "packaging" algorithm which handles multiple items and quantities
* Item dimensions and dimensional ratings
* Drop-shipping from multiple origins
* "On-demand" carrier settings
* Fixed shipping codes
* Free shipping
* Promotional shipping discounts
* Accurate package insurance
* AuctionInc's top-quality customer support

AuctionInc's add-on module for your Zen Cart is easy to install. Detailed instructions are included.

The add-on module will enhance your product listing page to include our data options for accurate calculated shipping:

We also support fixed rate (and free) shipping. You can mix calculated, fixed and free shipping across your items. We also support a combination calculation method of free shipping to domestic destinations/calculated to international.

To get started, just download our Zen Cart add-on module here.

---